Greetings, explorers!
It's been a while since we ventured forth into the themed and less-themed drinkeries of the Disneyland and Walt Disney World Resorts. Disneyland is a living place once again. Every Disney park is open as of this week, in fact. Like all of you, I cannot wait to kick back with a few cocktails at the Lamplight Lounge. Maybe I'll finally write about it or that Carthay one.
In that spirit of celebration, I went to Hawai'i.
Disney's Aulani Resort is an amazing place, but how could it be any less? Designs by Joe Rohde have that kind of effect. The deep levels of attention to Hawaiian history make this so much more than any of the other mega-resorts in the area. One of the highlights is the fantastic 'Ōlelo Room.
In Disney parlance, the 'Ōlelo Room is a lounge like Hearthstone Lounge at the Grand Californian or the Steakhouse 55 Lounge at the Disneyland Hotel. It offers drinks and appetizers until the late evening, qualifying it as your go-to for a snack and a few cocktails before turning in. Plenty to see here, plenty to hear here, and plenty to ingest. Strap on your adventurer's sandals and join me next to the koi pond!
Environmental Effects
The 'Ōlelo Room rests on the bottom floor of the resort, underneath the main entrance. A short walk down a sweeping staircase and you will find the entrances to both the 'Ōlelo Room and Makahiki, the resort's buffet and character dining location. Take a left at the host stand and let the warm tones of dark wood and dim, yellow lighting surround you.
All around the indoor portion of the lounge you find wooden carvings along with typewriter-key-style lettering describing the item in the Hawaiian language. Decorations teach Hawaiian pronunciation and the alphabet. It's a gorgeous room with plenty to take in. There is so much to see that you might miss the full bar and sushi prep area!
Venture outdoors to watch the sun set and enjoy an evening under the stars. The torches and lights around the lounge highlight the large koi pond along the perimeter of the dining area. The sounds of play in the pools start to diminish and the nearby rock work of the lazy river and its lush vegetation immerse you in a quiet paradise.
Every night, different artists perform on the patio. All are local musicians an storytellers and you never know what experience you will find. Traditional Hawaiian music and tales of Hawaiian history are a given. You may find yourself sticking around much longer than you anticipated just to hear the next story of the islands.
This feature of the lounge is more than enough to set the mood for a relaxing night. You may have taken a lengthy hike, toured destinations around the island, or just spent all day in the pool with your family. No matter your day's activities, the live music makes a perfect end cap.
Trader Sam's but . . . Realer?
Here's the thing: Aulani aims for authentic Hawaiian culture and details throughout. Tiki culture is unabashedly inauthentic, born of remembrances of the South Seas and filtered through multiple kitschy revivals. Tiki became its own glorious beast years ago.
Even so, it's easy to draw comparisons here. The atmosphere feels like the ideal, calm setting that places like Trader Sam's can only hope to imitate with its more raucous brand of fun. The musicians are locals, the décor is modern but Hawai'i, and several of the drinks are straight up clones of Trader Sam's drinks, albeit with local ingredients where possible!
Take the Island Bliss. It's Aulani's version of the Tiki Tiki Tiki Tiki Tiki Rum but with a substitution of KōHana Agricola Rum. The fresh pineapple and orange juices make a huge difference too. The Tiki Rum is already a favorite, but these differences bring it to to the status of Real Boy.
The Tropical Mai Tai has a similar substitution. Old Lahaina Silver Rum makes up the bulk of the alcohol volume, adding a slightly different touch. There's also a float of Whaler's Dark Rum atop the tall glass. Whaler's is distilled in Hawaii and has a bit smoother character than Disney's go-to of Meyer's or Plantation dark rums.
Fans of Disney World's Tambu Lounge will recognize the Backscratcher in its local form as the Tropical Itch. The recipe is probably the closest to the original, but we get some very pleasant kicks from fresh pineapple juice and passion fruit nectar. That Whaler's dark rum makes an appearance too, floating above instead of floating the whisky. Let them know ahead of time if you would rather not have your drink served with a hunk of bamboo carved into a back scratcher by the kind folks at Oriental Imports. Unless you need a few more for the home tiki bar, of course.
Several other cocktails provide diversity beyond the rum-based delights of Sam's. A few margaritas give you the choice between low-cal and spicy tequila libations. A full bar ensures you can retire with a glass of port or some fine scotch if need be. Non-alcoholic drinks deliver more than just fruit juice and seltzer, even if those are still some of the main ingredients.
Most of the available wines are California- or Oregon-based with a few exceptions. If you want some local flavor, try the 'Ōlelo Cabernet, Merlot, or Chardonnay offerings. Had I realized this at the time, I would have given these Hawaiian grapes a shot!
The beer list is similar to many Disney resorts. Domestics and common craft beer staples are easy answers. Dig a little deeper and try the local beers. Honolulu Beerworks makes excellent beer and even if you only find their IPA and cream ale at the resort, you will be pleased. Sometimes the resort has rotating taps with something a bit more interesting. If you leave the resort, give their brewery (or one of several others) a try! You can also find Maui Beer's IPA, blonde, and coconut porter here. If you have never tried a coconut porter, drink the one that defined the style here.
Hawai'i's proximity to Japan ensures a supply of fresh sake and shochu. If I could end every night with a fine bottle of Junmai Daiginjo sake, I would. The 'Ōlelo Room offers several brands of this high quality sake variety. If you are unfamiliar with this spirit, don't worry about the more expensive bottles. All of the sake at Aulani is delicious and satisfying. Venture outside your comfort zone and try some fruity and dry rice wine!
Food!
You should eat something. All this liquor is going to your head, so soak it up with some premium sushi or poke. The 'Ōlelo Room sushi chefs craft a great variety of fish deliciousness that you have to try. Coming from a landlocked state, I always opt for the freshest of sushi and sashimi when I visit a place with actual access to fish.
The local specialty is 'Ahi poke. Locally-sourced tuna in its purest form is combined in myriad ways to challenge and delight your senses. A more traditional poke selection pits you against a pile of tuna, ginger, cucumber, and rice. You can enjoy artfully prepared 'Ahi sashimi or opt for a platter of 'Ahi, salmon, and hamachi amidst daikon radish, ginger, and wasabi.
OK. It's time to talk about regrets. Looking back, there are so many appetizers I wish I had tried. Vegan tacos, Korean chicken wings, Hawai'i beef sliders, and pulled pork with cheese and onions all seem amazing. The thing I regret the most is missing popcorn fries. Popcorn. Fries! Buttered popcorn with French fries, green onion, wasabi, mayo, and mochi. Come on. How did I miss this? I need to go back.
My trip to Aulani was one of the most memorable trips of my life. Not just because it was one of the only times I have left my house in the last year, but because it really delivered on that promise of paradise. For a non-coastal fellow like myself, the island of Oahu was a completely unique and exotic experience. I cannot wait to go back someday when more of the island and the resort itself are open.
Do yourselves a favor and find a way to sneak off for a few days in paradise. You deserve it!
Keep on drinkin', Explorers!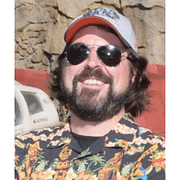 Author
Erik
Co-Host - EarzUp! | The Supreme Resort