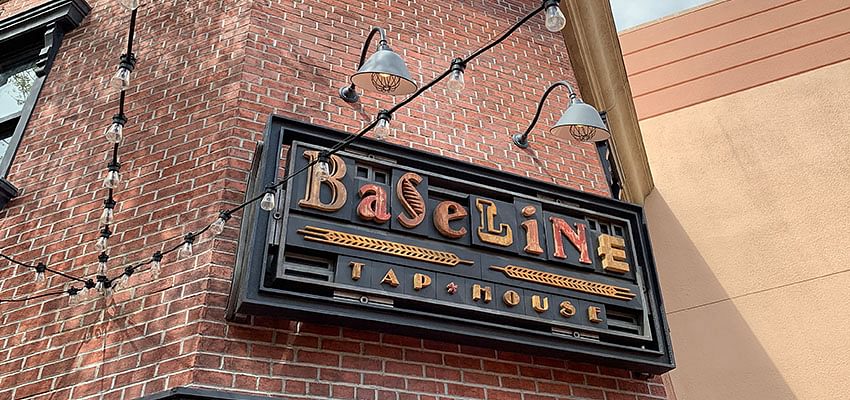 Greetings explorers! I hope all of you have been keeping yourselves safe and healthy these last few months. We have seen so many changes to how we experience Disney Parks, Disneyland notwithstanding. Not long ago, Disney opened up access to the streets of Disney's California Adventure, allowing us to return to the park in a vastly different way than we ever anticipated. And then they closed the restaurants, so that's cool.
With these changes in mind, I would love to tell you all about one of my favorite Disney drinking locations: BaseLine Tap House in Disney's Hollywood Studios. Sorry, but our beloved Carthay is a pretty huge topic requiring lots of research. And I already started this one, so this is what you get.
In the earliest days of the Disney MGM Studios, the park was a very different place. The place was the definition of a half-day park. The oddest but most exciting aspect was the multi-hour tour through Disney's sometimes-real studio.
On this tour, your Universal-style tram brought you through several locations that were ostensibly used as sets for short features starring Bette Midler. Guests could marvel at a realistic New York City street, complete with a giant scrim at the back. Sound familiar to any of you West Coasters?
But you couldn't walk there.
That's right. The tram tour drove right on by and no guests could enter this amazing and fake place. After all, if Jimmy stands next to the painted wall at the back end, wouldn't that ruin the effect of the forced perspective?
Yes it would, Jimmy. Even so, after a few years of waning interest in the lengthy tour and a desire for more to do at the theme park, Disney relented and opened up the gates for the plebes to enjoy walking anywhere they pleased. But the shops along the street were fake.
As Disney continued to breathe life into the park, they added in a delightful coffee shop called Writer's Stop. Inside, guests could enjoy Disney's fine coffee specialty drinks and some sweet treats. As with any good coffee shop, the shop also had a robust selection of Disney books.
No Starbucks. Actual books. Delicious and calorie-ful pastries like a carrot cake cookie sandwich and a red velvet cupcake that you could not get anywhere else in the parks. It was pretty great, and one of my favorite places to enjoy air conditioning and sit down for a bit.
As Hollywood Studios as it was now known evolved, it removed the remaining Streets of America area to create Galaxy's Edge and Toy Story Land. The nearby Muppets-themed area called Grand Avenue has the look of modern, downtown Los Angeles. The space given to Writer's Stop was adapted to the Baseline Taphouse.
Inside the bar, you find a lot of Disney's obsession with brick-based character. It looks like the sort of place that was reclaimed from another place, with exposed brick, open ceilings, and steel shelves on the wall. When I write reclaimed, I should mention that it is not reclaimed from Writer's Stop but instead from an old cannery or something. There are some nice touches, though. On the shelves above the bar, you can find plenty of typewriters and other writing implements. You'll even find the letters from the coffee shop's original sign as a nice throwback. Even the font of Baseline Taphouse is written out to resemble random typewriter bits assembled into a larger sign.
Baseline's main event is beer. And not just any beer. California beer. See? Now there's a connection for you Disneylanders. The decisions on which beers are on tap are a bit odd. My go-to is generally the "Pilsner" from North Coast Brewing Company. It's a nice beer to enjoy in the hot, Florida sun, even if it is many shades too dark to be an actual Pilsner. They also carry North Coast's Red Seal amber ale which is nice as well. North Coast produces some much more famous brews of course. I don't think too many would enjoy a chewy imperial stout like Old Rasputin as they melt in the Florida heat, but a dry and fruity Belgian golden ale like PranQster could be nice. Of course, they can't sell that in a 22-oz size because of its massive alcohol content.
The mega-popular-at-some-time Ballast Point makes a showing, but not with its well-known Sculpin IPA. Instead their solid Black Marlin Porter is available, another somewhat odd choice for Florida. If you want IPAs, you'll have to switch it up to Sierra Nevada's fruity Hazy Little Thing or Stone's Gluten-Reduced Delicious IPA.
You can also purchase Golden Road beers, but that's as close as you will get to a Budweiser.
Flights are available, but go big! You're on vacation! Get a 22oz pour and tip well!
Some cocktails are available, but nothing too fancy. The margarita is sweet and has tequila. The California Sunset has vodka and SoCo and is also sweet. These are premixed drinks that do their job, but are clearly not the focus. They offer a mostly-full bar as well if you want some standard mixed drinks or just a shot of Gentleman Jack.
Baseline does offer some California wines on tap. I love the setup of draft wine, so this is kind of fun. They have at any time at least one red and one white. You can bet that red will be some sort of Cabernet that will punch you in the face with tannins and fruit flavor.
Baseline offers a limited food menu as well, all perfect for sharing. Get a giant pretzel and play the classic game "Mustard or Cheese Sauce." The charcuterie board has a lot to offer as well with various California-local cheeses, meats, and toasted baguettes. I have not yet invested the stomach space for the coffee-rubbed rib-eye beef puff but it sounds like a pretty good meal if you're not keen on sharing.
In all, I love this little place on its own and as a tribute to its former location. Baseline Taphouse is a great example of what Disney can do with theming on smaller, less noteworthy locations. I am sure there is some backstory here, but it isn't necessary. It accomplishes its purpose well, offering a place for guests to pop in and buy a beer and a pretzel and get on their way.
If you want to linger, however, take a look at the area around you. The interior screams of Imagineering effort. Outside, bask in the heat under the shade of an umbrella or a tree. Strings of lights overhead cast a great vibe in the evening. And speaking of vibe, how can you turn down easy-listening takes on popular songs like Funkytown or Careless Whisper?
Baseline Taphouse is a great place to find a quiet table and watch people stream into Galaxy's Edge. It is also a great place to get caught in the rain. Sip your drink under an umbrella and watch the rest of the parkgoers run.
Until next time, explorers!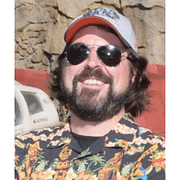 Author
Erik
Co-Host - EarzUp! | The Supreme Resort