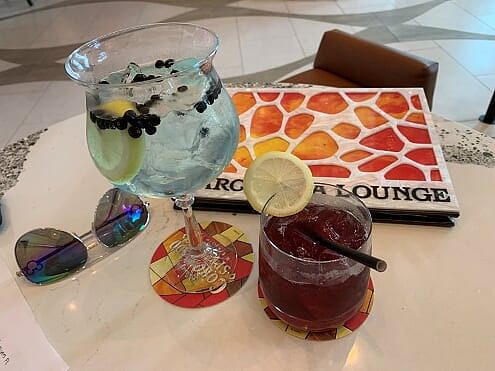 You know, it's getting hard to explore libations at a place that has been closed since March. Assuming you don't mind the excursion to the East Coast, let's check out one of the newer locations at Walt Disney World Resort. Disney's Coronado Springs has been around for years, but the resort recently added in some new rooms via their giant Gran Destino Tower. Themed with the brief collaboration between Walt and Salvador Dali in mind, the tower is shiny, new, and contains a lot of delightful, mid-century touches.
Just inside the lobby of this tribute to the colors orange, red, and white, is the Barcelona Lounge. Walk straight in the front doors and then head to the right to descend the sweeping staircase. Turn around at the bottom and you're there. It's out in the open, airy, kind of loud at times, but an easy place to lose yourself for a few hours.
The food services in the Coronado Springs resort aren't owned by Disney, but were leased to the same company that runs the Mexico pavilion in Epcot. This fresh change means Disney's usual menu of the same old cocktails isn't present. Instead, Barcelona Lounge presents a unique environment with completely new drink and food offerings. Read on for a quick visit to one of the best new additions to the Walt Disney World Resort in the last several years.
Since I know the least about wines, let's start with that topic, shall we? You can find some California wines here, but most are from Spain. You are in a Spanish-themed hotel right now, so give something a try. Plenty of affordable reds are available from multiple growing regions. Several whites and a lone Rosé round out the list. If you're not sure about a grape or a blend, put down the phone and ask your server. They're very nice people.
From the $10-15 range, there is a steep step up. The Treasures from Spain list includes some more rare vintages from around the country. These bottles start at $69, but top out near $200. Smaller pours are available if you're not feeling luxe.
Since Barcelona Lounge loves to celebrate its wines, it's no surprise they have some very nice sangria options. The restaurant in the middle of Coronado Springs has a few more, but Barcelona's have some amazing character. The lounge also makes a Sherry Cobbler using some of that sherry, sweet-and-sour, oranges, and fresh fruit in case you want something with more body and dark fruit flavor after dinner.
Gin. Do you like gin? This bar likes gin. Artisanal gin. Infused gin. Regular gin. So much gin. Sure, the menu has other drinks available, but gin is the spirit du jour. And they do it well! Take a step outside your comfort zone and try something different. There is plenty to go around.
The menu at Barcelona Lounge starts with the simplest gin classic around: the G&T. The Gran Gin Tonic uses Tanqueray and soda water with a splash of house-made saffron-orange tonic water. The bitter and savory flavors and aromas of the tonic heighten what is normally a very plain drink. The Tini Sucio is a martini (of course) featuring a Spanish (also of course) gin mixed with sherry and garnished with blue cheese-stuffed olives. Tom Collins fans will enjoy the Santa Maria Collins. This take on the old standard uses a strawberry gin from Spain, lime, strawberries, and club soda.
At times, the lounge offers different takes on the gin and tonic, pairing familiar or exotic gins with various flavors of tonic. These simple ingredients made for a lot of great variety without having to mix in a ton of nonsense that nobody would ever have around the house.
Speaking of nonsense, Barcelona Lounge features some bizarre and amazing whisky cocktails. The Armada pits Russell's Reserve 10-year bourbon against cream sherry, banana liqueur, lemon, and cinnamon. It seems overly complicated, but the sharp citrus and woody cinnamon flavors helped the bourbon flavor cut through that sweet sherry.
Who doesn't like a little almond flavor? The Amaretto de Verano mixes rye whisky and amaretto with creme de mure and sweet-and-sour syrup. This one ended up on the sweeter side than the Armada, but it was pleasant and worth the experience.
Further deviations from the norm feature rum. Some Spanish rum works surprisingly well with cherry liqueur, grapefruit juice, and lime in the Pomelo Daiquiri. The Cafesito Conquistador adds the kick of coffee to Bacardi's Gran Reserva Anejo Superior rum, Spanish sherry, lime, cinnamon, and pimiento bitters. Another sweeter drink with that sherry, but the cold brew coffee made a great addition.
They have some beer there as well. Spain isn't particularly known for its beer, but Estrella has been around for a while. You can find their pale lager, Reserva Especial Lager, and Galicia 1906 Red Vintage Strong Lager on tap and in bottles. Several Florida breweries like Cigar City, Funky Buddha, and Veza Sur make the cut at the bar. There are plenty of other selections if you're not adventurous. Barcelona Lounge aims to serve.

Speaking of serving, if you want food in the evening, you'll have to make do with a pretty limited menu. Despite the lack of selection, you should still check out some of these selections. Spanish charcuterie is served with fig jam, sourdough, and olives. The artisanal cheeses featured three different choices that spanned the gap from funky to hard cheeses. You can snack on olives marinated in citrus and garlic or peeled almonds drenched in oil and salt. Or you can try out the Taste of Barcelona and get a mix of everything above and feel full enough that you won't even care about your next meal. Seriously. Share.
I should mention Barcelona Lounge is embracing the call for less alcohol. While they don't have as many non-alcoholic cocktails as Enchanted Rose does over at the Grand Floridian, they do have a nice offering of lemonades blended with various fruit juices and tonic. Raspberry, blackberry, blood orange, lemon, and fresh fruit in your Limonada Afritada will make you feel like you're indulging in some fine sangria with the rest of your crew. Prickly pear and hibiscus mint lemonades are also available.
If you happen to be awake in the morning times, the lounge becomes a nice café, complete with coffee bar and some light food options.
The Recipe: The Pomelo Daiquiri
According to my vague knowledge of languages, "pomelo" means "grapefruit," so this drink is aptly named. If you know much about daiquiris, you know that they tend to be overly sweet in most circumstances due to generic sweet and sour mix being added to an indifferent amount of bland rum. The real deal can be fresh and delicious! Try to make this one using fresh ingredients and you won't be sorry.
Let's start with the rum. The Dos Madeiras PX 5+5 used in Barcelona Lounge is a somewhat-available blend from Spain. They take rums from Guyana and Barbados and age them in oak casks for five years to make this smooth blend. If you don't have access to this rum in particular, find an oak-aged variety that is dark in color and smooth and sweet to the taste. This rum should stand on its own, but we're going to add more junk to it to make a delicious extravaganza of flavor.
Replace the simple syrup in a standard daiquiri with maraschino cherry liqueur. That and the mix of lime and grapefruit juice will handle the sweet and the sour portions of this drink. Shake well with plenty of ice and strain into a cocktail glass. If you're feeling saucy, garnish with a grapefruit or lime wedge, but it certainly isn't required.
Pomelo Daiquiri
1 ½ oz rum
½ oz maraschino liqueur
½ oz fresh lime juice
1 oz fresh grapefruit juice
OK. Basically, this is a Hemingway Daiquiri with darker rum. But you have to imagine that old Ernest would have used whatever funky Cuban rum was on hand instead of the purest, most generic white rum recommended in most recipe books. If you want a little more sweetness, add some syrup in. Feel free to mess with the ratio of lime and grapefruit juices too.
In all, this little slice of paradise is another location that should be (and can be) noisy and distracting at the wrong times. There are plenty of moments when Barcelona Lounge is exactly what you need, a place to relax and sample some sensuous sips between trips to your next dining reservation at Epcot.
Carry on, Libation Explorers!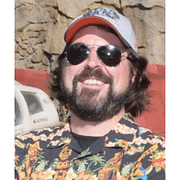 Author
Erik
Co-Host - EarzUp! | The Supreme Resort